The late John M.  "Kim"  Kimbrough, III was inducted into the MACA Hall of Fame at the 38th Annual Conference held on January 27-28, 2011.  MACA member, Bob Stonestreet, presented Kim's wife, Debbie, with a plaque and read the following tribute: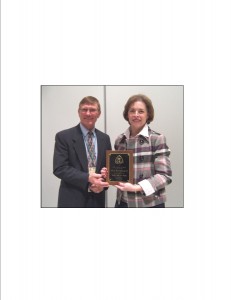 "In 2001, the MACA Board of Directors saw a need to recognize and honor those members who excelled in their agricultural expertise, integrity and service to this organization. Consequently, the MACA Hall of Fame was established. It remains as the highest, most prestigious award that any member can obtain. To date, ten (10) members have been bestowed this honor. Inductees or their families receive a personal plaque. In addition, a standing plaque listing each inductee is displayed at this university. (Mississippi State University)
Today, we have the honor and privilege to recognize a distinguished gentleman for his achievements and contributions to the field of entomology and the Mississippi Agricultural Consultants Association.
John M. "Kim" Kimbrough, III was a life-long resident of Lexington, Miss. and a 1969 graduate of Mississippi State University. While at MSU, he was a member of the Block and Bridle Club and Alpha Zeta Honorary Agriculture Fraternity, having been awarded scholarships from both organizations.
Kim was a charter member and a past president of the Mississippi Agricultural Consultants Association (MACA). He remained active in this organization, serving as a Director and on various committees until his untimely death in March of 2009. It wasn't unusual for newly elected officers to seek his advice or call on him for an opening or closing prayer, including this speaker. His reputation of honesty and integrity will be sorely missed.
Kim was also a past president of the National Alliance of Independent Crop Consultants (MAICC) 1982-1983, was the recipient of the 1982 Leadership Award by Ag Consultant and Fieldman Magazine, the 1990 recipient of the National endowment for Soil and Water Conservation Award, the 1994 American Cyanamid Consultant of the Year and the 1999 MAICC Service to Agriculture Award. He was a past director of the Holmes County Livestock Association and the Mississippi Cattlemen's Association; past president of Holmes County Farm Bureau; past president of the Lexington Rotary Club and was serving as Chairman of the Holmes County Soil and Water Conservation Board at the time of his death.
Kim was Elder and Clerk of the Session, First Presbyterian Church, Lexington, Miss. He was a private pilot, a Hunter Education Instructor and on the Troop 64 Advisory Council.
He was a devoted husband, father, son and friend to all who met him. Kim is survived by wife Deborah "Debbie" Magee Kimbrough; daughters Marianna Kimbrough Chapman and Olivia Kimbrough Logan; sons Robert Thomas Kimbrough and John M. Kimbrough, IV and seven grandchildren.
Because of Mr. Kimbrough's dedication, perseverance and integrity to his profession and this association, we honorably induct John M. Kimbrough, III into the MACA Hall of Fame, the most prestigious award this organization has to offer."