Reporting from the North Delta, Trent LaMastus, Cleveland
6/23/2017 – Corn: nearly all my Corn is r4. The latest is r2. We have had a very quiet corn season since early season stink bug pressure. There has been very little disease up till now but, we expect that will change within the next two weeks with the current weather and maturity of the crop. Having said that I do not anticipate treating for disease unless it's in our very limited acres of later corn. The crop looks very good and has received lots of timely rains. Most of the crop was irrigated once or started irrigation only to be turned off because on rains. Once again the moisture sensors I use on my growers are paying off.
Soybeans: most of the soybeans in my areas are from v12-v17/ r3-4+. We have very few late beans, v1-3. Insect and disease have been light till now. Our residuals held very well this year due to the many rains we received after planting. When the residuals ran out, it was a struggle to get more herbicide out because the rains and winds kept coming and there were issues with non-trait crops in the mix in many areas. We have seen our share of off target drift this year. Only time will tell how bad it hurt us. Many of our fields will be receiving a fungicide application next week as the current weather pattern clears out.
Cotton: Our cotton ranges from beginning the second week of bloom down to pinheaded square. We started off with light insect pressure. Things are picking up now though. We treated a couple fields for mites in the last 6 days. We also had a few fields we had to treat for aphids over the last two weeks. It is frustrating because we did all we could not to flare these insects. Some years you are just going to have problems with these two pests no matter what. And by the way, the idea that rain helps keep mites under control in my area is hog wash, in my book! All it does is mask the symptoms for a little while, especially early season. Plant bugs have picked up but still light overall. We are getting good control on them so far. Changing the subject, we have caught heck getting all of our cotton cleaned up from a grass and weed perspective. Same issues as with the beans – tough weather conditions and crop mixes. We will get there, it's just going to be more expensive. Lots of Pix going out or trying to go out.
I hope everyone has a great year!
Phillip McKibben, Maben, sent in these 2 photos of Southern Rust in corn from Clay County, Mississippi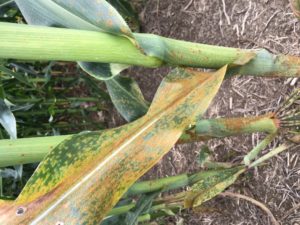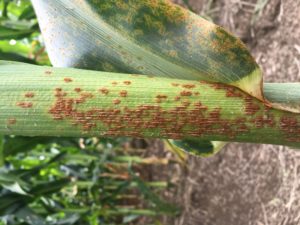 Jeff North, Madison, sent this photo of red banded stink bugs.