MACA HALL OF FAME INDUCTEE WILLIAM N. (BILL) BATSON
February 5, 2013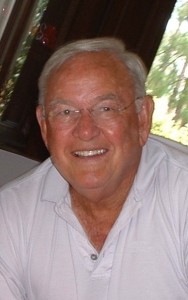 In 2001, the MACA Board of Directors saw a need to recognize and honor those members who excelled in their agricultural expertise, integrity, and service to this organization. Consequently, the MACA Hall of Fame was established. It remains as the highest, most prestigious award that any member can obtain.
To date, thirteen (13) members have been bestowed this honor. Inductees or their families receive a personal plaque. In addition, a standing plaque listing each inductee is displayed at this university.
Today, we have the honor and privilege to recognize a distinguished gentleman for his achievements and contributions to the field of entomology, the MACA and the State of Mississippi.
Bill Batson was born in Perkinston, MS and grew up on a dairy farm. His parents were Walline & Clark Batson who were school teachers and the District Forest Ranger for south Mississippi. During WWII, his parents demonstrated their patriotism by traveling to Keesler Air Force Base at Biloxi daily to instruct incoming flight students the complex fuel systems of B17 bombers.
After graduation from high school in 1944, Mr. Batson joined the Navy and attained the grade of Signalman Petty Officer 3rd Class. He served on the USS Battleship Arkansas and was deployed in the Pacific for 2 years, participating in the invasion of Iwo Jima and Okinawa. He witnessed the raising of the flag on Mount Suribachi.
After the war, Mr. Batson enrolled in Perkinston Junior College on a football scholarship playing quarterback and running back. After graduating from Perkinston, he attended Mississippi State University receiving his undergraduate degree in Entomology with a minor in Horticulture and Chemistry. He also received a fellowship to teach freshman biology while completing his master's degree.
In 1951, Mr. Batson moved to Greenville, MS to work for an implement company selling insecticides and scouting their client's crops. Within two years, he began his own independent crop consulting business. Bill Batson retired in 1999 and at the time of his retirement, he still consulted for some of the same clients or their children that he attained at the start of his consulting career.
During his 50 years as an agricultural consultant, Bill Batson worked with several research projects involving 13 different insects; discovered and helped eradicate the pink bollworm in the Delta; was an early advocate for tarnished plant bug control; consulted on cotton, rice, wheat, corn, milo and soybeans and is a charter member of the Mississippi Entomological Association.
Mr. Batson retired in 1999 after, as he put it, "50 years of good health, God's blessings, and good friends, and moved to Wiggins, MS to be closer to my beginnings."
Bill Batson is married to Carolyn Chennault Batson and is the father of 6 children: Lynn, Leila, Lisa, (all who received degrees from MSU) Pepper, Bryan & Blair. He has 5 granddaughters and 2 grandsons.
In recognition of Bill Batson's achievements, dedication, perseverance, and integrity to his profession and this association, we honorably induct William N. (Bill) Batson into the MACA Hall of Fame.
Induction Ceremony conducted by Bob Stonestreet, Clarksdale, Miss.